About Andy Rawls Fine Texas Woodcraft
Andy Rawls Fine Texas Woodcraft was started in 2012 in a small garage in Boerne, Tx. The business
has since grown into a larger shop where passionate furniture makers work with both traditional hand tools and modern-day machinery to create beautiful heirloom furniture.  We operate with a deep commitment to our craft and to the clients we're blessed to work for.
 We currently offer a growing catalog of furniture for sale directly from our website, or we can build custom furniture to fit your needs exactly. Each piece is crafted from start to finish in our shop and bears the "AR" signature once completed.
Texas Hill Country Woodcrafters

As woodcrafters, one of our most important goals is longevity. It's our desire to build furniture that will last a lifetime and more. We use solid woods and time-tested traditional joinery. Our designs are classic with a modern touch, and our hope is they will stand the test of time and hold relevance from generation to generation.
Our mission is to provide high quality furniture, crafted with a lifetime guarantee, at a competitive price to our customers.  Please take some time to browse our catalog and if you can't find what you're looking for contact us to start creating your one-of-kind custom piece today! 
Andy Rawls | Owner & Master Furniture Maker
Andy first started building furniture in high school with his dad. While attending Baylor University where he studied Telecommunications, he had the opportunity to take several woodworking classes with both Paul Sellers and Frank Strazza. These classes sparked his passion for fine furniture making and there was no turning back. Shortly after his graduation from Baylor he had the opportunity to briefly apprentice under Brian Boggs in Berea, Kentucky.
 Not long after that he spent 3 years working under Brent Catterton of Catterton Woodworks. There he built custom doors for high end homes.  Following his time with Brent he launched his own furniture business in 2012 and since has built hundreds of pieces for clients all over the U.S and a few overseas.
Andy has also had the fortune to be able to share his craft with people all over the world through his YouTube channel. Andy produces videos that offer a glimpse of what it truly takes to build handcrafted furniture.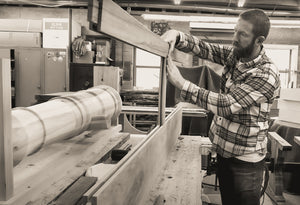 Robert Rustin | Furniture Maker
Robert was hired as an apprentice but is quickly earning his place as a talented furniture maker in the shop. He joined the team from Florida and has a real passion for woodcraft. It's not uncommon to find him working through his lunch break to build personal pieces for his home. If you purchase one of our heirloom pieces, there's no doubt Robert's hands have touched it. We look forward to seeing Robert's skills grow and are lucky to have him as a part of the team.